Antique Masonic Jewelry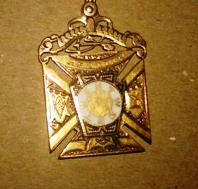 Photo Collection of Antique and Vintage
Masonic Jewelry
Sent in By Visitors NOT FOR SALE
Below is a list of photos of antique Masonic jewelry sent in by visitors. Click on the links to view each piece. Again, this jewelry is NOT FOR SALE.
Are You a Collector?
If you collect Masonic antique jewelry, such as pendants, coins, pocket watches, etc., go to eBay.com to see if you can find any interesting, old and antique Masonic paraphernalia.

Some of the links on this page are affiliate links, which means that if you choose to make a purchase, I will earn a commission. This commission comes at no additional cost to you. Please understand that I have experience with all of these companies, and I recommend them because they are helpful and useful, not because of the small commissions I make if you decide to buy something. Please do not spend any money on these products unless you feel you need them or that they will help you achieve your goals.
---
---
Many of these pieces are over 100 years old and quite intricately designed.
If you own some inherited Masonic jewelry and are curious about the symbols on it, most of these pages have responses by me and other visitors discussing the symbol meaning on each of them.
Lodge
Ostby Barton Master Mason Ring
Masonic Mosaic Jewelry
Masonic Fob with Chain Masonic Pin
My Father's Masonic Ring

Scottish Rite
Scottish Rite Jewelry
York Rite and Scottish Rite Pendant
Antique Scottish Rite Ring

York Rite
Knights Templar and Shrine Pendants
Knights Templar Jewelry
Masonic Pendant HTWSSTKS

Shrine Shriner Masonic Claw Pin
Eastern Star
Order of the Eastern Star WP Pendant
Masonic Ball/Orb Pendants
Masonic Ball Masonic Orb Pendant Masonic Fob
(See also Masonic Ball)

Other Masonic Jewelry
Heir of Locket from Southern Masonic Female College - 1860


I hope you enjoyed viewing these antique Masonic jewelry pieces which visitors sent in.  This page is now closed to further new questions about any inherited jewelry which you own.
---
If you collect antique Masonic jewelry, there are many antique Masonic pieces available on eBay.
---
5 Fast Methods To Find the Information You Want to Learn About


Search Box -

Use the Search Box at the top of your page.




Site Map - Use my Site Map page to find the topics you are most interested in.


Carousel - Use the carousel of pages at the top of your screen.


Menu Icon - On MOBILE, click the MENU button at the top of each page.
 

Masonic Books -  Browse through a selection of Masonic books.