York Rite and Scottish Rite Pendant
by Barbara Barclay
(Green Cove Springs, FL)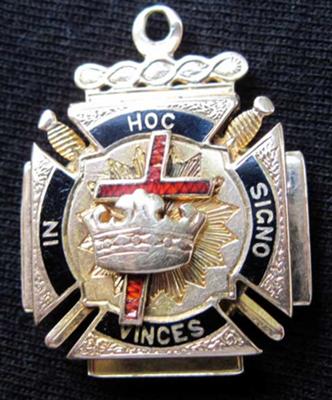 York Rite Pendant
I have a piece of antique Masonic jewelry that I would like to know more about. It belonged to my great-grandfather.

Thank you.


---
Simon's Reply:
Barbara, this piece is a York Rite and Scottish Rite pendant.
Members of Freemasonry receive their first 3 degrees, that of Entered Apprentice, Fellowcraft and Master Mason in a craft lodge (nicknamed a "blue" lodge in the United States).
Upon becoming a Master Mason, the member may wish to continue their Masonic education and join the York Rite and/or Scottish Rite branches of Freemasonry.
It appears your great grandfather was a Master Mason who was also a member of both of these Rites, which are also called appendant bodies of Freemasonry.
The Scottish Rite branch confers an additional 29 degrees. It appears that your great grandfather attained his 32nd degree within the Scottish Rite. The emblem of the Scottish Rite is the double headed eagle.
The York Rite confers a different set of additional degrees. This pendant displays the cross and crown, one of the emblems of the York Rite on whose Grand Standard of a Commandery of Knights Templar can be seen a blood-red Passion Cross.
In the American branch of the Order of Knights Templar, In Hoc Signo Vinces is a Greek for: "By this sign thou shalt conquer", an allusion to the original Knights who guarded the Temple, from whence this Order originally received its name.
Thank you for writing.
Simon