Freemason Watches
Register now to receive email notification of deep discounts for Black Friday, Cyber Monday and future discount notifications for Masonic regalia, jewelry and accessories at BricksMasons.com. 
Your discount codes will be received in a newsletter from BricksMasons the day before each event.
You may wish to whitelist "@Bricksmasons.com" to insure you receive their newsletter with these discount codes in your Inbox.
At no extra cost to you, this website may receive compensation if you purchase an item through recommended links on this website.
Freemason watches, such as Blue Lodge watches, Past Master watches, Scottish Rite watches, Shriner watches typically display Freemasonry's well known logo, the Masonic Square and Compasses.
Eastern Star watches display the Eastern Star logo.
NEW!



Click on any MasonZone link on this page to receive a discount.  Get discount code on their site.



Black and Gold Face Dial with Black Silicone Band
on MasonZone.com
These Masonic watches are worn by members of the fraternity, not only at lodge meetings, functions and events, but on a daily basis.
Masonic watch face designs vary, as do choices of metals,...from stainless steel to gold, as well as the many different choices of watch bands.
Like all Masonic jewelry, wearing a Masonic watch is an optional choice for each member.
Lodges do not purchase Masonic jewelry. Each member purchases their own.
Blue Lodge Watch
A Blue Lodge watch depicts Freemasonry's well known logo, the Square and Compasses emblem.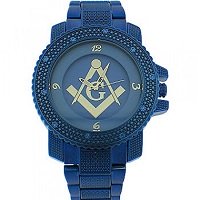 Blue Lodge Watch with Blue Face and Band
on MasonZone.com



Working Tools-Masonic Symbols Watch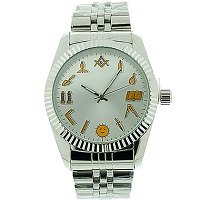 Masonic Symbols Watch
on MasonZone.com
Scottish Rite Watch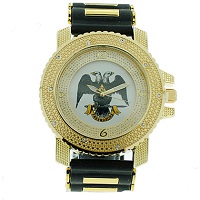 Freemason Watches - Styles
Masonic lodge watches may include the square and compasses, Masonic tools or other Masonic styling, symbols, emblems and insignia.
Masonic Shrine Watches
The Shrine emblem consists of the scimitar, star and eagle claw.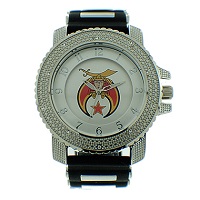 Masonic Past Master Watch
A Past Master watch has a Past Master's symbol on its face. The symbolry is of the Sun, the Square, the Compasses, and the Quadrant. (in the United States)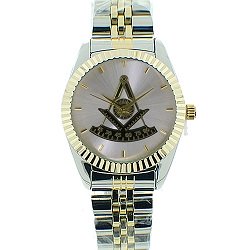 Past Master Watch
on MasonZone.com
Masonic Pocket Watch
Masonic pocket watches are also popular.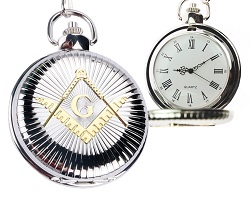 Masonic Pocket Watch
on MasonZone.com
Freemason watches range from simple, inexpensive styles to more elaborate designs which may include diamonds or other jewels, as well as Masonic tools.
View All Masonic Watches Under $ 50.
on MasonZone.com
Related Pages