Masonic Journey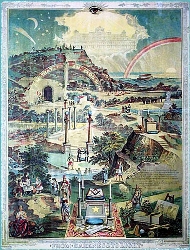 Poem by Simon Pierce
I entered as an Apprentice;
A Fellow I became;
Raised to Master Mason;
A better man is my aim.
With a lambskin apron in my dresser drawer;
My wife hopes I'll start cooking;
But I know that on yonder shore;
There's a journey I'm someday booking.
Back from Masonic Journey to Masonic Poems
5 Fast Methods To Find the Information You Want to Learn About


Search Box -

Use the Search Box at the top of your page.




Site Map - Use my Site Map page to find the topics you are most interested in.


Carousel - Use the carousel of pages at the top of your screen.


Menu Icon - On MOBILE, click the MENU button at the top of each page.
 

Masonic Books -  Browse through a selection of Masonic books.