Antique Scottish Rite Ring
by John
(Santa Clarita, California )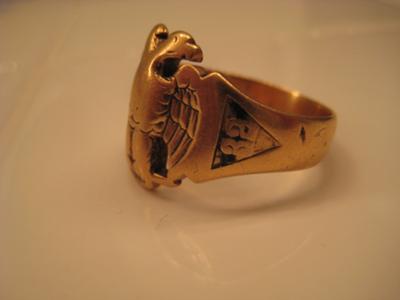 Scottish Rite Ring

I inherited this antique Scottish Rite ring from my grandfather who passed away in 1982.

I know he reached the 32nd degree, but don't know anything else. He lived in Buffalo, New York and was a member there. I'm assuming this ring dates back to the 30's, 40's or 50's.

Is it worth more than it's weight in gold?


---
Hi John,
Since I am not a jeweler, I cannot appraise this ring, however, antique Scottish Rite rings, as well as many antique Masonic rings can be quite valuable to jewelry collectors and Masonic memorabilia collectors.
If you wish to sell this piece, even though gold prices are quite high, I believe it is more valuable as a collectible than if sold as scrap gold. If you placed it on E-Bay or via another medium, such as Craigslist, I believe you might be surprised at its value, especially, since it is 60-80 years old.
Hope this is helpful, John.
Thanks for writing.
Simon