Stainless Steel Masonic Rings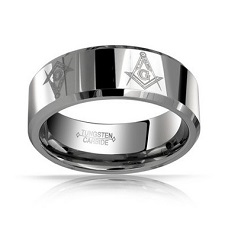 Tungsten Steel Color Ring with Beveled Edge, Square and Compasses
with "G",
on MasonZone.com
Stainless steel Masonic rings are a popular choice.
Each of them display the square and compasses emblem, Freemasonry's logo, known around the world as the symbol of a Master Mason.
These bands are available in a variety of finishes such as:
Shiny
Brushed steel
Polished
Gold Plated
Available on Amazon.com





Related Pages:


Masonic Emblems and Car Emblems
Here is the Site Map of all pages on this website.
If you like, you can use it as a starting point to read about whichever sets of specific topics you are interested in.