Stainless Steel Masonic Rings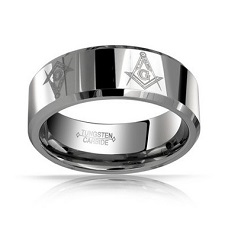 Tungsten Steel Color Ring with Beveled Edge, Square and Compasses
with "G",
on MasonZone.com
Stainless steel Masonic rings are a popular choice.
Each of them display the square and compasses emblem, Freemasonry's logo, known around the world as the symbol of a Master Mason.
These bands are available in a variety of finishes such as:
Shiny
Brushed steel
Polished
Gold Plated
Available on Amazon.com





Related Pages:


Masonic Emblems and Car Emblems
5 Fast Methods To Find the Information You Want to Learn About


Search Box - Use the Search Box at the top of your page.


Site Map - Use my Site Map page to find the topics you are most interested in.


Carousel - Use the carousel of pages at the top of your screen.


Menu Icon - On MOBILE, click the MENU button at the top of each page.
 

Masonic Books -  Browse through a selection of Masonic books.