Masonic Fob with Chain
by Antony
(Portland, OR)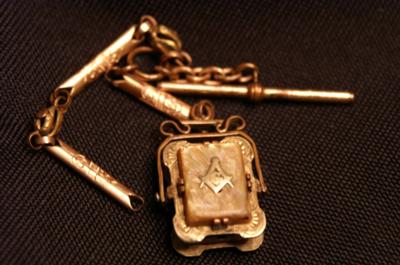 Masonic fob
I have this Masonic fob with chain that I would like information on.

Locket in style. "Pat Ap'd For" stamped in both sides of the interior. No external markings.

Either abalone or mother of pearl on face of both sides.

Filigree on brackets and edging. Spinning fob hinging. Unknown metal content.


---
Simon:
Great pictures, Anthony!
This is truly an unusual piece.
If there are any Masonic jewelers reading this, would you be so kind as to help Anthony learn more about this Masonic fob with chain.
Thanks!
Simon