Masonic Chairs
Masonic Art


Masonic chairs are an art form unto themselves.
Their Masonic symbols go back in time hundreds of years and are part of Masonic history. 
Since Freemasonry is built upon the symbolism of Solomon's Temple on Mount Moriah in Jerusalem, the Master's chair is symbolic of a King's throne.
Throughout history, no matter whether these chairs were roughly hand-whittled from logs and branches or lovingly hand carved by a master craftsman and ornately decorated with gold and filigree, the men who have sat in most of these chairs have been elected to and held the most prestigious position in their lodge,...that of the Worshipful Master.
These Masonic chairs are artfully crafted with symbolry.  They have no ergonomic chair qualities, whatsoever.
These Masonic chairs have no lumbar support, no tilt mechanisms, no levers and most have very little padding. They don't roll on wheels, nor do they have extendable arms, mesh seats or backs to keep you cool.
In fact, rarely will you ever find one which is for sale.

The Master's chair is symbolic of the Master's duties and loyalty to his lodge and its members.
The men who currently sit or previously have sat in these chairs are honorable men who believe in a Supreme Being, universality among men and strive to promote peace and harmony within their lodge and actively support charitable work within their communities.
All of them are hand carved with highly ornate detail work.
Several of the pictures and images, below are courtesy of Trepanier Lodge No. 83, A.F. & A.M. - G.R.B.C. & Y.
If you were looking for information about lodge officer chairs in respect to each lodge officer's duties, here is the page about ascending through the Masonic lodge chairs in the United States.


THESE CHAIRS ARE NOT FOR SALE.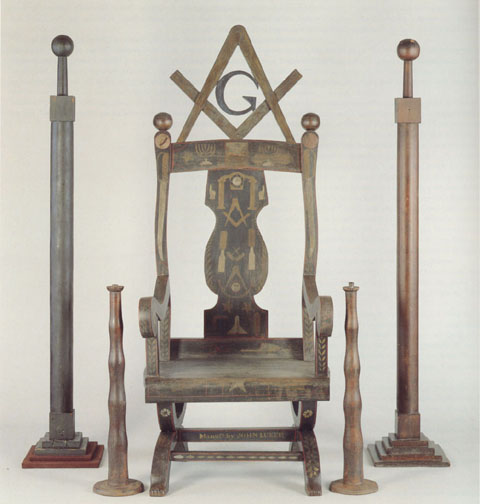 ---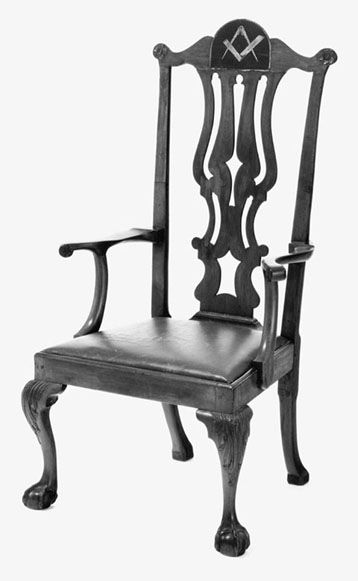 ---


The Benjamin Bucktrout Worshipful Master's Chair
The Pre-Revolutionary Masonic Worshipful Master's chair, below was built by cabinet maker, Benjamin Bucktrout of Williamsburg, Virgina between 1766 and 1777.
It is over 200 years old and is made of mahogany with black walnut and has rocaille ornamentation and its original leather seat.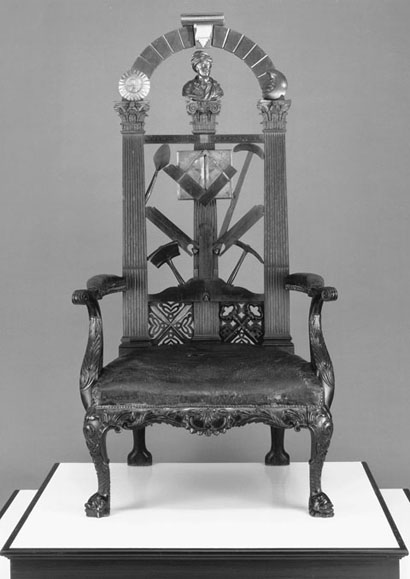 Before conservation work.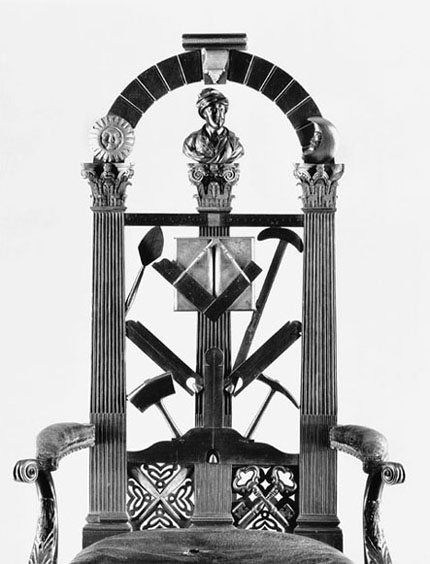 Close up of the back of the chair.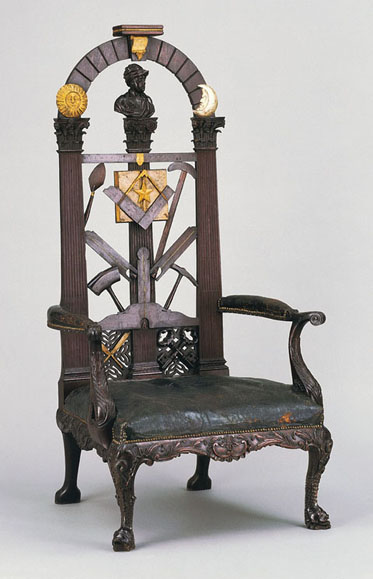 After conservation work was completed.


If you would like to learn more about this Benjamin Bucktrout Master's chair, you may find more detailed information about it in the Colonial Williamsburg Collection.

---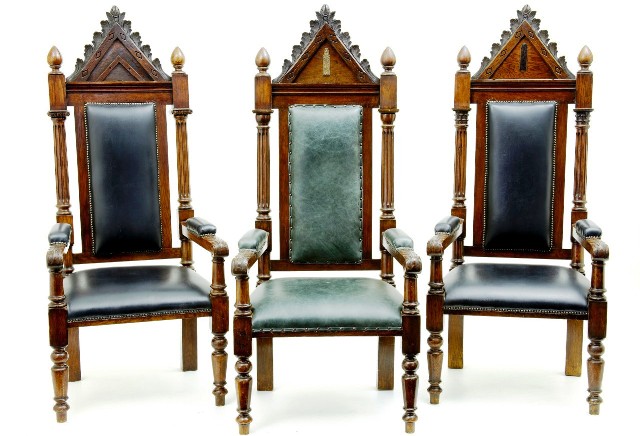 Above, are 3 solid oak, antique Masonic chairs.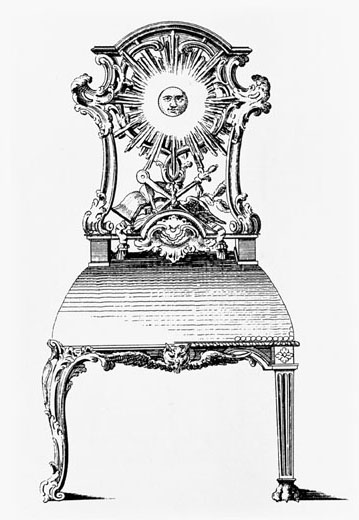 Drawing of Chair. Notice the different legs.



---
Bespoke Ceremonial Masonic Chairs
Bespoke chairs are individually crafted for a specific client by master craftsmen.  Americans would call them custom-crafted chairs.  They are unique and one-of-a-kind.
Bespoke Ceremonial Masonic Chairs
In approximately 1791, soon after the Prince of Wales (later called George IV), became the first Royal Grand Master in 1790, a Senior Warden and Junior Warden chair was commissioned to be used in Freemasons' Hall in London.
They are now in the United Grand Lodge of England's Museum.

Original Craftsman
London cabinet maker Robert Kennett was commissioned to create the chairs. It took 3 months to complete the set. (1 matching footstool was also created and still survives)
They display columns, foliage, acanthus leaves and the respective symbols of the Senior and Junior Wardens.
They are duplicates, except that the Senior Warden's chair has Corinthian columns and a level and the Junior Warden's chair has Ionic columns and a plumb. They have deep blue velvet seats and fluted legs which taper down to brass castors.
They are made of limewood which has been gilded.
Chair Restoration
Over the years, the chairs have been repaired many times. They had been re-gilded so many times that their intricate carvings were no longer crisp looking. In 2005 thru 2008, The United Grand Lodge of England commissioned W. Thomas Restorations Limited to restore the chairs.
All the previous layers of gilt were carefully removed, repairs were performed to the limewood carvings and they were then re-gilted using a water gilt rather than an oil gilt.
It took the restoration team 3,375 hours to perform the repairs on these 2 chairs and the Master's throne. They used 190 books of 23-1/2 carat extra thick gold leaf.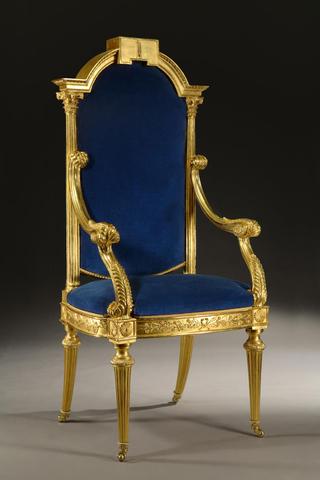 Junior Warden's Chair
United Grand Lodge of England
(Ionic columns and the Plumb)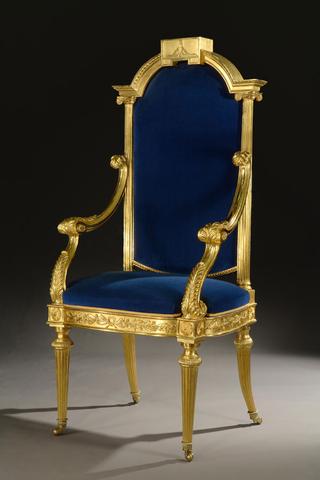 Senior Warden's Chair
United Grand Lodge of England
(Corinthian columns and the Level)
The matching Master's chair is on permanent exhibition in the Museum of Freemasonry in London, England. It is, inarguably, the most unique and ornate of all Masonic Masters' chairs in the world.
It is showcased on the U.G.L.E. (the United Grand Lodge of England's) website.
Here is the matching Master's Throne Chair.
If you like Masonic antiquity and history, and you decide to visit the Freemason Museum in London, here is their address.
Freemasons' Hall
 60 Great Queen Street
London WC2B 5AZ  

---
---




If you enjoyed this page and would like to share it with others, just click on the Facebook icon to 'Like' it on your Facebook page or 'Tweet' it on Twitter.


5 Fast Methods To Find the Information You Want to Learn About


Search Box -

Use the Search Box at the top of your page.




Site Map - Use my Site Map page to find the topics you are most interested in.


Carousel - Use the carousel of pages at the top of your screen.


Menu Icon - On MOBILE, click the MENU button at the top of each page.
 

Masonic Books -  Browse through a selection of Masonic books.