Masonic Clip Art
Masonic Images and Graphics
Masonic clip art goes hand in hand with Masonic education.
Masonic symbols and graphics are best learned
by seeing them in frequent use.
Use this Masonic clip art index to find Masonic web graphics from Masonic websites.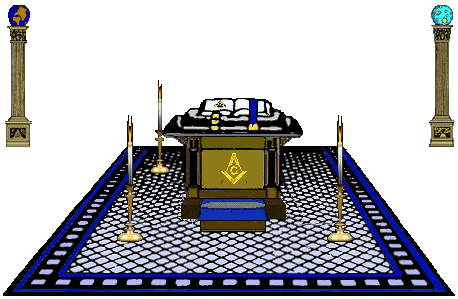 Masonic Clip Art Websites
- Use his dropdown to access multiple sites containing Masonic clip art.
from KingSolomonsLodge.org.
Printable Masonic Clip Art
High Resolution Masonic Clip Art (.tif - TIFF format)
http://freemasonry.bcy.ca/graphics.html

All B & W Squares and Compasses (S & C) for both PC & Mac
http://www.washweb.com/masonic/masonic.html
All B & W:  S&C, Shrine, Tools, Other  
Other High Resolution Masonic Graphics
http://www.mckim.nescotland.co.uk/wallpapers.htm
Color images for newsletters, wallpapers and card making.

http://freemasonry.bcy.ca/images.html
Index of print quality images. Awesome Masonic Architecture images,
Masonic cursors for Windows OS, Symbols and more. 
More Masonic Clip Art
(Mixed:  Print Quality & Web Quality)
http://www.msana.com/clipart.asp
Misc.images in both Color and B&W.
Sam B. Crawford's Clipart - Color and animated Masonic clipart
http://www.fraternalclipart.com/ Blue lodge & Appendant Bodies images.  Nice selection of both Color & B&W.  Has both serious Masonic and "fun" images for lodge and appendant bodies.
http://yorkrite.com/clipart/ Very nice selection of Images for Masonic organizations (mostly in color), lodge-oriented backgrounds, lodge symbols (mostly in color). Slow loading. Be patient.
http://www.washweb.com/masonic/masonic.html S & C, Shrine, Tools, Other
http://www.masonicworld.com/graphics/
Over 900 Masonic graphics.  S&C, Master Mason, Eastern
Star, Misc.
Hard to Find Masonic Clip Art Images and Masonic Photos
Animated Masonic Clip Art
http://freemasonry.bcy.ca/images/animations/index.html
Moving eyeball and revolving Squares and Compasses
Free Masonic Screensavers
http://www.masonicworld.com/screensaver/
Moving Masonic images on a Past Master Symbol Masonic background. Includes Music (We've Only Just Begun).  Download the new or the old version of this Masonic background image.
---
Masonic Clip Art Directory
- This page is, essentially, a Masonic clip art directory which contains links to several thousand Masonic symbols, as well as logos for the various appendant bodies such as DeMolay, Rainbow Girls, Eastern Star, Shrine, etc.
There is a wide selection to choose from.
I encourage you to begin using these Masonic computer graphics to assist in the Masonic education of the brethren in your lodge.
Possible lodge uses include:
Masonic lodge websites
 
Lodge Newsletters
 
Officer Installation Announcements
 
Program Handouts
 
Lodge Function Invitations
 
Masonic Business Cards (very handy when you attend Annual Communication)
 
Masonic Greeting & Sympathy Cards

 
Please respect Masonic Clip Art copyrights.  If in doubt, please contact the owner of the website and request permission to use these images.  Please read the disclaimers on each individual website for more information.
To save a specific image, select it and then press the right mouse button and select "Save Picture As" or "Save Image As", depending on your browser.  Then, save it onto your hard drive.
Image resizing can be accomplished using Adobe Photoshop, Corel Draw or shareware programs for Microsoft Windows such as  L-View Pro and Graphics Workshop...any of which will perform the task very nicely.
Sponsored Links
---
---