Masonic gravestones commemorate a life proudly well lived under the Creator's hand.
These cemetery headstones can be found throughout the world.

These old Masonic granite headstones with their Masonic symbol and emblem inscriptions are in the Barnard Masonic Cemetery in Barnard, Missouri.
 Barnard Masonic Cemetery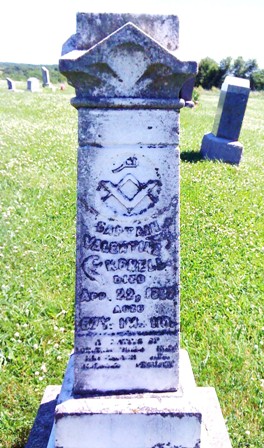 Odd Fellows Obelisk Stone of:
Captain Valentine Korell
Died Apr. 22, 1887
57 Y, 1 M, 11 D

Vertical headstones like this one are called obelisks, an Egyptian art style which has been used for thousands of years.  Below is a close-up of the above stone.  The black around the lettering is from environmental damage which is slowly eroding the words and symbols.
  Notice that there is no "G" inside the square and compasses.
Samuel H. Conlin
1855 to 1924
Francis M. Blagg
Born May 26, 1845
Died Dec. 1, 1901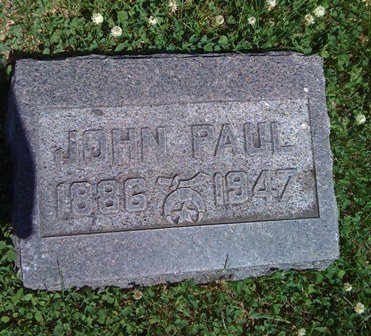 John Paul
1886 to 1947
With Shrine Emblem
 
Closeup Of Shrine Emblem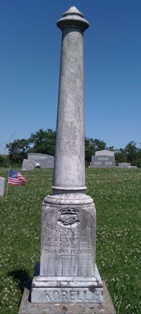 This Odd Fellows obelisk gravestone which is over 100 years old, stands approximately 8 feet tall.  Many Odd Fellows' symbols, such as the hand clasp are similar to Freemasonry's symbols. 

See Close-up, below.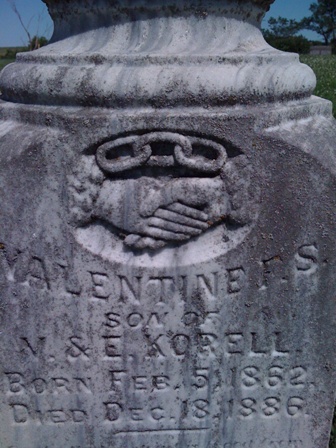 Valentine F.S.
Son of M. & E. Korell
Born Feb. 5, 1862
Died Dec. 18, 1886

This stone has 3 chain links symbolizing the eternal cable tow between brothers in which is chiseled into this elaborate grave marker.
The Independent Order of Odd Fellows, a fraternal organization with similar symbols to Freemasonry's, use the 3 chain links as one of their symbols. The 3 links stand for Friendship, Love and Truth, (F.L.T.). This stone marks the grave of a member of the Odd Fellows.
Due to the similarities in symbolism between Freemasons and Oddfellows, sometimes it is difficult to clearly distinguish between these stones.
Many old Masonic gravestones were made with limestone or other stones that are "softer" (more porous) than marble or granite. 
Due to ongoing environmental damage, the lettering on these old limestone Masonic grave markers of these past brothers is wearing away and will one day become unreadable. 
---
What Other Visitors Have Said
Click below to see contributions from other visitors to this page...

---
Related Pages:

Masonic Symbols
5 Fast Methods To Find the Information You Want to Learn About


Search Box -

Use the Search Box at the top of your page.




Site Map - Use my Site Map page to find the topics you are most interested in.


Carousel - Use the carousel of pages at the top of your screen.


Menu Icon - On MOBILE, click the MENU button at the top of each page.
 

Masonic Books -  Browse through a selection of Masonic books.