Masonic Widow Pin Presentations
Broken Column Pin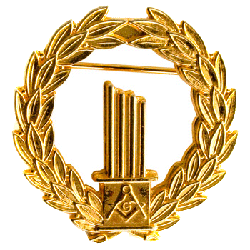 There are numerous Masonic widow pin presentations which may accompany the Masonic broken column pin, Masonic broken column brooch (or as it is called in European Freemasonry, the Broken Column broach) which is presented to the widow of a Freemason. 
Meaning of the Broken Column: 

The broken column memorializes the end of our earthly life.  Surrounding the broken column are acacia leaves, symbolic of our eternal life.




From Mackey's Revised Encyclopedia of Freemasonry, 1929, page 155:

Broken Column:
"In Freemasonry, the broken column is, as Master Freemasons well know, the emblem of the fall of one of the chief supporters of the Craft. 
The use of the column or pillars as a monument erected over a tomb was a very ancient custom, and was a very significant symbol of the character and spirit of the person interred. 
It is accredited to Jeremy L. Cross that he first introduced the Broken Column into the ceremonies, but this may not be true (see Monument). 
Monument:  Mackey's Revised Encyclopedia of Freemasonry, 1929, page 678:

...This shows that the idea of a monument to mark the grave of the Temple Architect was introduced into Freemasonry at least as early as 1782, and it is quite possible that various Brethren at different times made changes in the form of the monument until the broken column was added by Brother Cross.
End of Mackey Quote
---

Masonic Widow Pin Presentations Text
Grand Lodge of Virginia


"There are stars that go out in the darkness,
     But whose silvery light shineth on,
There are roses whose perfume still lingers
     When the blossoms are faded and gone.

There are hearts full of lights and of sweetness
     When no longer their life current flows,
Still their goodness lives on with the living
     Like the souls of the star and the rose."

  In Memory Of

__________________________who died _________________, 202___

Whereas, God hath summoned a member of our Lodge, and the golden gateway to the Eternal City has opened with a welcome to home.  His work of ministering to the wants of the afflicted, in shedding light into darkened souls and is bringing joy into the places of misery is completed, and as a reward, he has received the plaudit, "well done" from the Supreme Master.

"Their toils are past, their work is done,
     And they are fullest blest;
They fought the fight, the victory won
     And entered into rest."


And Whereas, The all-wise and Merciful Master has removed from our midst our beloved and respected brother.

And Whereas, Having held a place of esteem in the hearts of his brethren, therefore, be it

Resolved, that __________Lodge No. _____, (designation, i.e.:  A.F. & A.M.) of (city), (borough), (province), (state), (country), in recognition of its loss, and that of his family, do tender to them our sincere condolence in their deep affliction and do convey a copy of these resolutions to them as a mark of our respect and esteem.

__________________Worshipful Master

________________________ Secretary
---

Masonic Widow Pin Presentations Text
Grand Lodge of Washington

"This pin was created as an emblem to symbolize our continued concern and honor for the widows of a Brother Master Mason, a Brother whose name added luster to the Craft as he labored with us in The Quarry.
Now that his name has been entered upon the Roll of the Celestial Lodge, we cannot forget those things which he loved so deeply, nor can we be unmindful of our duty to him.
It is my distinct privilege to present this emblem to you that you may wear it with great pride.
It is our desire that it be to you a reminder of your ties to us; a relationship wherein you will find friends who will assist you in times of need, join with you in times of gladness, and welcome you to a continued association with us as we continue our labors of Friendship, Brotherly Love and Truth.
You are not alone. When moments may cause you to doubt, Look at this emblem and be assured that we are there and we care.
This Masonic Widow's Pin was created with the hope that it would be worn by the widow of a Master Mason on all appropriate occasions, especially when traveling, so that she may be recognized, greeted, and assisted when necessary, by Masonic friends throughout the world.
It is an emblem of honor and should be worn separately, and not in conjunction with other jewelry.
May she who wears this emblem find that she is not alone. We are there and we care.''  
---

Many Grand Lodges offer these as Masonic lapel pins or as Masonic Widow's brooches for the Masonic Widow as well as a Masonic Widow certificate with text similar to the ones, above. 
Many Grand Lodges and subordinate lodges also have a Masonic Widow's Program. If your lodge is in need of these items, contact your Grand Lodge and inquire.  To my knowledge, however, there is no rule that any lodge is required to utilize their Grand Lodge's pins and/or presentation texts. 
Masonic widow pin presentations (some also include the Masonic widow pin) are also available for sale at various places, online.
If anyone has a different Masonic widow pin presentations text which they would like to send me to share with other lodges, please use my contact form to email it to me to be placed onto this page. 

 
Related Pages:

Back from Masonic Widow Pin Presentations to Masonic Lodge
5 Fast Methods To Find the Information You Want to Learn About


Search Box -

Use the Search Box at the top of your page.




Site Map - Use my Site Map page to find the topics you are most interested in.


Carousel - Use the carousel of pages at the top of your screen.


Menu Icon - On MOBILE, click the MENU button at the top of each page.
 

Masonic Books -  Browse through a selection of Masonic books.