Masonic Art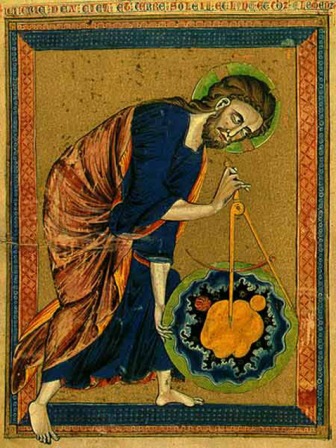 The Masonic art above, is from the Bible Moralisée, circa 1250, long before the beginnings of speculative Freemasonry in the early 1700s.  Here, we see what appears to be Christ applying the compass(es).
A Bible moralisée is a type of picture book wherein biblical images are paired with a moralization for each picture. 
Each picture is accompanied by a few lines of text in French or in Latin which has been taken from the Bible or other biblical source.  It was used as a teaching tool.
Vindobonensis Codex 2554, Courtesy of the Austrian National Library. Darmstadt 1998th License issue for the Scientific Book Company.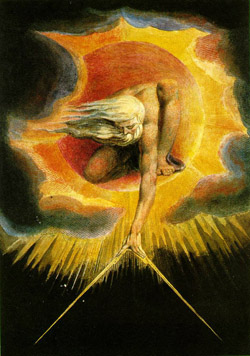 500 years later, in 1794, we see God, surrounded by radiantly swirling red, gold and yellow light, applying the compass(es) in this watercolor by William Blake, entitled "The Ancient of Days Measuring Time".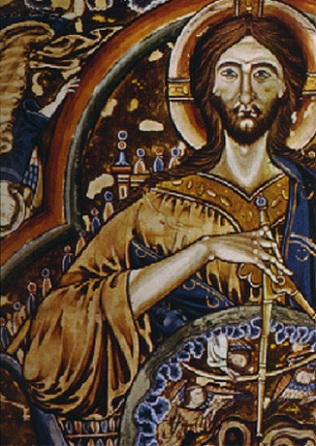 Christ Circumscribing the Globe with Compass(es)
Unknown Artist, Unknown Date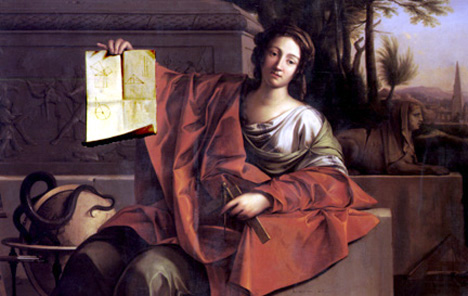 Unknown Artist, Unknown Date
In this painting, this person appears to be a man, however some of his features appear to be somewhat feminine. From head to waist, he/she might easily be judged as a female, however from waist to legs, he/she appears to be male.
Coupled with his/her apparent love of mathematical science, he/she sits upon what appears to be a monument which has Egyptian carvings upon it.  Note the Sphinx behind him and the black snake upon the globe which is beside him.  
In his left hand he/she holds a compass(es).  In his/her right hand he/she holds up a paper on which he/she has recently drawn a point within a circle at the bottom left of the page as well as some other mathematical markings.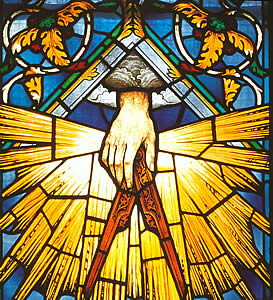 This stained glass piece is set against a radiant background of golden light. We see the hand of God applying a very ornate compass(es), presumably to Mankind. 
The hand projects from a stylized blue and gold square and there appear to be clouds upon his sleeve.
Masonic art is both fascinating and subjective. 
What we can safely infer from these images is that each of these artists felt there was a symbiance (a strong connection) between the Supreme Being and the compass(es) which Freemasons are taught are a tool to circumscribe Man's passions.
---



If your lodge walls are bare or if you are mentoring new Freemasons, here are some additional pieces of Masonic Art which have been painstakingly restored, such as old Masonic prints, Masonic certificates, educational charts, Masonic records, photographs, portraits, tracing boards and writings.


Some of the links on this website are affiliate links, which means that if you choose to make a purchase, I will earn a commission. This commission comes at no additional cost to you.
Please understand that I recommend them because they are helpful and useful, not because of the small commissions I make if you decide to buy something.
Please do not spend any money on these products unless you feel you need them or that they will help you achieve your goals.
Simon


---

Related Pages:

Masonic Chairs - (Worshipful Master chair photos)
Back from Masonic Art to Masonic Symbols
5 Fast Methods To Find the Information You Want to Learn About


Search Box -

Use the Search Box at the top of your page.




Site Map - Use my Site Map page to find the topics you are most interested in.


Carousel - Use the carousel of pages at the top of your screen.


Menu Icon - On MOBILE, click the MENU button at the top of each page.
 

Masonic Books -  Browse through a selection of Masonic books.