Heir of Locket from Southern Masonic Female College
by Helen
(Cary, NC)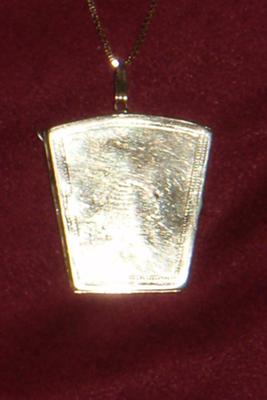 Masonic Locket Front


This locket was awarded to my great-great-great grandmother, Hattie Elizabeth Ingalls, when she graduated from the Southern Masonic Female College at Covington, GA in 1860.

She was 15, and was one of 3 students (out of 10 in her class) to receive a locket for graduating with honors.

The locket is more than 14 karat solid gold (not plated), probably 18, although I think my mom told me once that it was 22. At it's widest points, it measures just over 1" x 1".

The face of the locket shows a beehive with bees buzzing around it, and has a double border around the edges.

The back of the locket has the same border, but shows a masonic apron (lambskin) with the Square and Compass in the large portion and the all seeing eye in the upper portion.

Inside, it is engraved:
Left side:
S. M. F. College
P. B. Jones Pres
1860

Right Side
Miss H.E. Ingalls
First Degree

This locket has been handed down to the eldest daughter for generations. I would never part with it, but am curious as to whether other such lockets exist and what it's value might be. We all have worn it proudly, so it is a bit scratched.


---
Simon:
What an heirloom piece this Masonic locket is! Does anyone else have one like it or similar?