Ostby Barton Masonic Ring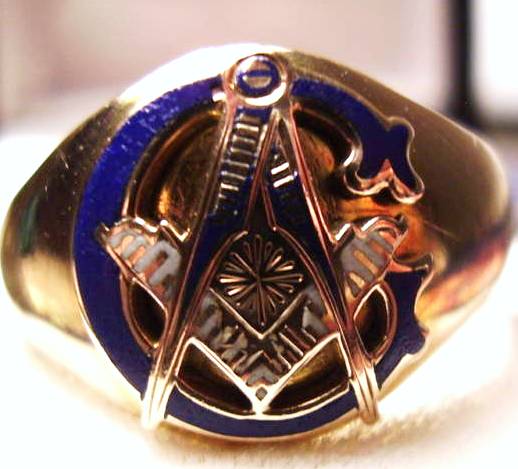 This Ostby Barton Masonic ring has an interesting history.
The Ostby & Barton Company was a jewelry firm established by Engelhart C. Ostby and Nathan B. Barton on July 1, 1879 in Providence, Rhode Island.  Engelhart Cornelius Ostby was a goldsmith who immigrated to the United States from Oslo, Norway.
The Ostby Barton Company, which he co-founded, became the largest producer of gold rings in the United States during that time.  As a very successful jeweler, beginning in 1906, each year Engelhart and daughter, Helen, traveled to Europe together to view the newest ring styles and designs which European jewelers had created as well as purchase gemstones for his jewelry business.
And so it was that on April 10th of 1912, it was time to set sail for home in Providence.
Ostby, age 65, and his daughter, Helen Ragnhild Ostby, age 22, boarded ship, traveling first class, which sailed from Cherbourg, France.  The ship?  The R.M.S. Titanic. 
The Titanic sank off the coast of Newfoundland, Canada on April 15, 1912.  Engelhart Ostby was among the 1,500 passengers who perished.
After the iceberg collision at 11:40 p.m. on April 14th, both father and daughter waited to board Lifeboat No.5.  Due to the temperature being around 25-28 degrees F, Ostby decided to return to his cabin for warmer clothing.  His daughter, Helen, was forced to board the lifeboat without her father at 12:55 p.m.
She survived.  Her father did not.
The Titanic sank at 2:20 a.m. on April 15, 1912.  Engelhart Ostby was later listed as corpse #234 in the list of the deceased.
In 1914, Helen, her brother, Harold and one of his daughters became joint owners of Ostby Barton.  Ostby & Barton Company ceased jewelry production in the 1950s.  Helen Ostby died in 1978 at age 88.
Today, Ostby Barton/Pylon, a division of the Contact Products Group, manufactures engineered custom contact probes for testing bare and loaded printed circuit boards.
The initials, "O.B." on the inside of the ring indicates its manufacturer as Ostby & Barton Company.
In addition to Masonic jewelry, Ostby & Barton jewelry made many different
styles of gold rings for both men and women including Art Deco Rings, Filigree Rings, Cameo Rings and many other ornate Victorian styles which were popular in that era and are still popular, today.  They are highly desired by fine antique jewelry collectors due to their exquisite workmanship.
This Ostby Barton Masonic ring is at least 50 years old (and possibly up to 120 years old). 
It is not for sale.




Related Pages:

Back from Ostby Barton Masonic Ring to Masonic Jewelry
5 Fast Methods To Find the Information You Want to Learn About


Search Box -

Use the Search Box at the top of your page.




Site Map - Use my Site Map page to find the topics you are most interested in.


Carousel - Use the carousel of pages at the top of your screen.


Menu Icon - On MOBILE, click the MENU button at the top of each page.
 

Masonic Books -  Browse through a selection of Masonic books.