Masonic Wife Questions
Women's Questions About Freemasonry
Are you a Masonic wife, partner, significant-other or girlfriend?
Do you have a lot of unanswered questions about Freemasonry, such as:
Why won't my husband share Masonic secrets with me?
How does Freemasonry make good men, better? Better at what?
What really goes on in the closed lodge room?
Why was he given a white, leathern apron when he became a Master Mason? What is its actual purpose?
Will he really have to ride a goat?
Why did he buy his Masonic ring?
Is ritual, evil?
Or...are you a Freemason whose spouse, significant-other or girlfriend has been asking you questions that you don't feel comfortable answering because you don't know if the information is secret?
The First E-Book to Answer Women's Questions About Freemasonry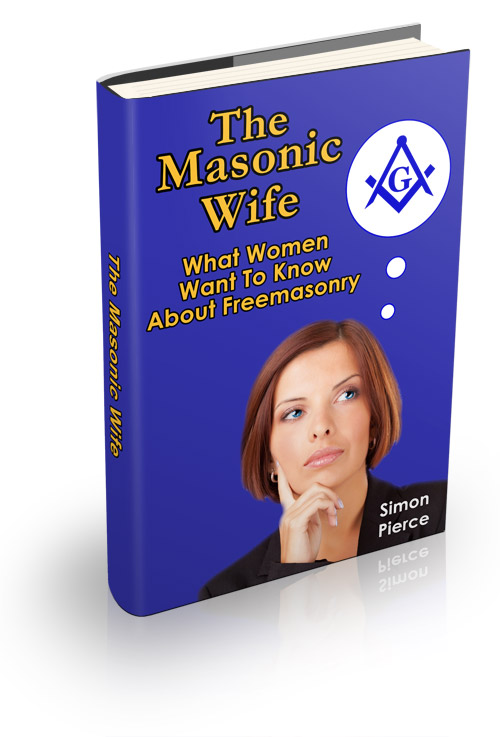 Men...Has understanding Freemasonry become a source of arguments within your personal relationship?...This E-book answers these questions... so you don't have to.
Women...Do you struggle to figure out if Freemasonry is good or bad?...Find Out The REAL Questions People Ask About Freemasonry.
Would you like to know what questions and concerns that other women have about Freemasonry?
This E-Book contains 70 pages of actual questions which I have received from wives (girlfriends, significant-others, partners and a few Freemasons, themselves,) over the course of a year's time.
Many wrote to ask about what their husband was "getting into" and what expectations they should have about their own role within Freemasonry. Some women were angry. Others were fearful, scared or hesitant. Still others had heard of the evils of Freemasonry and were skeptical, but they wrote anyway, because they needed to find out the truth.
This e-book does not contain any made-up questions. The questions came from real people.
It is the first e-book to answer women's questions about Freemasonry in the United States. Its question and answer format will save you hours of time trying to sift through all the information on the internet trying to figure out what is true and what is false.
If you need an easy-to-read book with straight-forward answers to women's questions about Freemasonry, The Masonic Wife E-book is exactly that.
Who Is This Book For?
Men - A Freemason who has a wife, girlfriend, significant other or partner who needs answers about the fraternity which you have been uncomfortable or unsure if you could answer her questions and still keep your promise of secrecy.

Women - If the man in your life is a Freemason or he has voiced an interest in joining the fraternity, you deserve a much better answer to your questions than "It's a secret!" I promised not to tell. Right?

Ex-Wife - Anyone who is curious about an ex-wife's role within Freemasonry in the United States.

Anyone (male or female) who is curious to know what questions women ask about Freemasonry.
The Masonic Wife is a Question and Answer (Q & A) E-book that covers many of the most frequently asked questions that wives ask when their husbands become a Freemason (or are thinking about becoming a Freemason).
Easy To Read - The question and answer format of my Masonic Wife E-Book makes it a fast and easy read.
It does not contain any long or boring "filler material" whatsoever, as some books do. What it does contain are the actual questions and answers that women (and a few men) asked so they could understand Freemasonry better.
Difficult Questions- Honest Answers - Some of these questions will raise your eyebrows but, after receiving the same question numerous times from different people (from different email addresses and different I.P. addresses), I realized that the writers were seriously looking for honest answers...and, even though I was surprised at some of these questions, each question was answered honestly and in detail for them.
Here is a sampling of the The Masonic Wife E-Book's Table of Contents.
Find out About:
---
NOTE: The answers in this E-book are based upon Freemasonry in the United States. In other countries, which are under different Masonic jurisdictions, there may be variations in protocols, rituals, symbols, symbol meanings and secrecy levels but, the intrinsic foundation of Freemasonry (its basic precepts) remain the same.
Freemasonry in the United States is based upon the 2B1Ask1 system, whereupon a man must request to join the fraternity of his own free will. In many other countries, men must be invited to become a member.
---
There is no need to continue wondering whether Freemasonry is bad for your marriage or your family. Now, you can read what others have written to get truthful answers to your own questions.
If you or your wife have fundamental questions about Freemasonry, it can be difficult to find reliable answers in online blogs where the total knowledge base available is limited to the knowledge of only a few people, who may or may not be Freemasons. If you would like to resolve these questions, once and for all, order and download The Masonic Wife now.
Ordering Information
The Masonic Wife E-Book is offered in PDF format only. If you don't have a PDF reader you can download one for free from Adobe (or update your current copy).
Click here to download your free copy of Adobe Reader.
This E-Book is in PDF format only. Once you purchase it, it is available as an instant download. No hard-bound book copies are available.
---
Price is $19.95
TO ORDER, simply click the BUY NOW button below to be reading your own copy of The Masonic Wife E-Book within minutes.
By clicking on either of these links, you will be taken to E-Junkie.com, a well-known and well-respected website which has a secure payment server.
---
Money Back Guarantee
-The Masonic Wife E-Book is backed by a 30-day, 100% money-back guarantee for PayPal account purchases only. If, for whatever reason, you don't find the information in this E-Book helpful to you, simply contact me within 30 days from the purchase date and please include the reason why you did not find it helpful to you in order to request a refund. You must also include your transaction number (invoice number).
---
Payment
Payment can be made with PayPal.
---
The Masonic Wife

Yes Simon, this is great!
I've never seen the answers to a lot of my questions about Freemasonry anywhere, and I need to find this information all in one place.
I understand I get instant access to download the E-Book, and that I get a 30-day money-back guarantee.
Safe and Secure
$ 19.95
Instant Download!