Recognition Pins
Masonic Pins
Recognition pins are worn not only by members of Masonic lodges, but by most other Freemason appendant bodies such as Scottish Rite, York Rite, Eastern Star, Shrine, Rainbow Girls, DeMolay and others.
Achievement:  They are worn to symbolize a specific achievement, such as having been raised to the Sublime Degree of  Master Mason. 
After having been made a Mason, other members of the fraternity address fellow members as "Brother", followed by their first name. 
Recognition Lapel Pins:  The primary reason Freemasons wear Masonic jewelry is that it aids in the recognition of another member as to which post or degree that person has achieved. 
This helps others in the fraternity to address them correctly.  For instance, in Eastern Star, a Past Worthy Matron would not be called by her first name.  She would be called "Past Worthy Matron". 
As you can see from the old Masonic photos, below, Masonic recognition lapel pins have been worn by members of the fraternity for many years and are still very popular, today. 
Each of the gentlemen below, wear different recognition lapel pins on their left lapel, however the brother in the first photo wears his Masonic pins on both lapels. 
Judging from their hairstyles and attire as well as the sepia and gray colored backgrounds, these professionally produced photos are probably over 100 years old.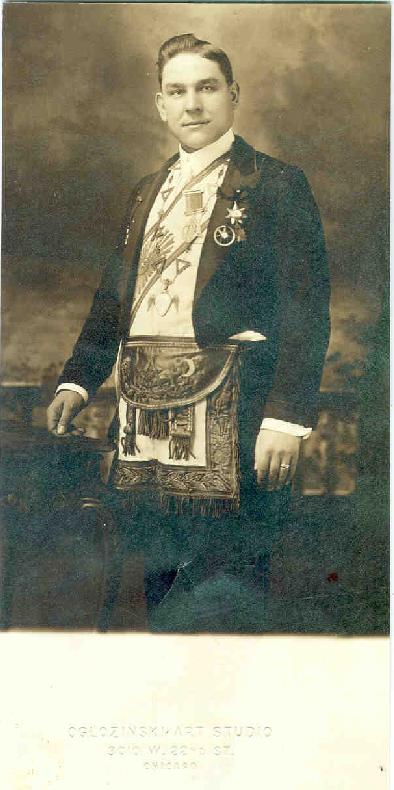 Name and Date Unknown
Taken by professional photographers, Oglozinski Art Studio,
3010 W. 22nd Street
Chicago, Illinois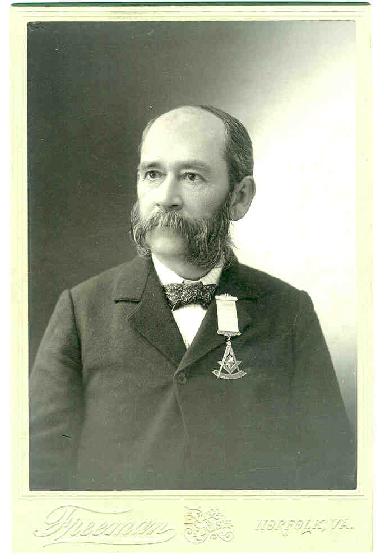 Taken by Professional Photographer:  Freeman
Name and Date Unknown
Past Master, Norfolk, Virginia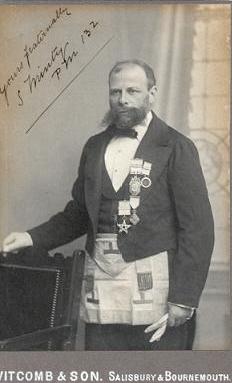 Signed:  Yours fraternally, S. Minty, P.M. 132,
 Date Unknown 
Taken by Professional Photographers, Witcomb & Son
Sausbury & Bournemouth, England
There are many fraternal recognition pins as well as Masonic firefighter pins, Masonic police pins and Masonic military pins available on the market. 
Pricing varies depending on quality of construction and material used. 
Inexpensive gold-plated ones, sometimes fitted with rhinestones can be found for as little as $ 10.00. 
Those made with vermeil gold are midline in price.  10 karat and 14 karat gold represents the top of the line in quality as well as price.
Custom lapel pins are also available and worn as recognition pins by the fraternity.
---
MasonicPins.com offers a wide selection of Masonic Lapel Pins which are very reasonably priced.
Disclosure: Please note that the link above is an affiliate link, and at no additional cost to you, I will earn a commission if you decide to make a purchase. Please understand that all outward bound links on this site are recommended by me because I truly believe they are helpful, useful and reputable, not because of the small commissions I make if you decide to buy something. Please do not spend any money on these products unless you feel you need them or that they will help you achieve your goals.
---
Sponsored Links
---
Back from Recognition Pins to Masonic Regalia and Jewelry
Back from Recognition Pins to Masonic Education
---