Masonic Clip Art
Masonic Images and Graphics
Masonic clip art goes hand in hand with Masonic education.
Masonic symbols and graphics are best learned
by seeing them in frequent use.
Use this Masonic clip art index to find Masonic web graphics from Masonic websites.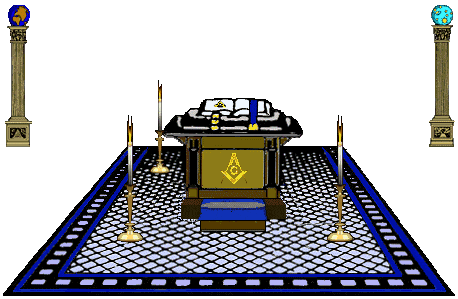 Masonic Clip Art Websites
Printable Masonic Clip Art
High Resolution Masonic Clip Art (.tif - TIFF format)
http://freemasonry.bcy.ca/graphics.html
Mostly B&W:  S&C, Tools, Typography, Symbols
http://ncmason.net/glnc/clipart.html
All B & W Squares and Compasses (S & C) for both PC & Mac
http://www.washweb.com/masonic/masonic.html
All B & W:  S&C, Shrine, Tools, Other  
Other High Resolution Masonic Graphics
http://www.mckim.nescotland.co.uk/wallpapers.htm
Color images for newsletters, wallpapers and card making. Slow loading page.  Be patient.

http://freemasonry.bcy.ca/images.html
Index of print quality images. Awesome Masonic Architecture images,
Masonic cursors for Windows OS, Symbols and more. 
http://www.kena.org/links/hirams/71-bbs-files This site has a very comprehensive selection of nearly 10,000 photos, clip art, appendant body logos and more.
More Masonic Clip Art
(Mixed:  Print Quality & Web Quality)
http://www.msana.com/clipart.asp
Misc.images in both Color and B&W.
http://www.yellowsprings421.org/Masonic%20Clipart/Forms/AllItems.aspx
Misc. good quality images, mostly black and white.
http://www.fraternalclipart.com/ Blue lodge & Appendant Bodies images.  Nice selection of both Color & B&W.  Has both serious Masonic and "fun" images for lodge and appendant bodies.
http://yorkrite.com/clipart/ Very nice selection of Images for Masonic organizations (mostly in color), lodge-oriented backgrounds, lodge symbols (mostly in color). Slow loading. Be patient.
http://www.washweb.com/masonic/masonic.html S & C, Shrine, Tools, Other
http://www.masonicworld.com/graphics/
Over 900 Masonic graphics.  S&C, Master Mason, Eastern
Star, Misc.
Appendant Body and Related Masonic Organizations
(These links are also in the list, above.) Eastern Star Clip Art, Scottish Rite Clip Art, Rainbow Girls Clip Art, Demolay Clip Art, etc.
http://yorkrite.com/clipart/ Very nice selection of Images for Masonic organizations (mostly in color), lodge-oriented backgrounds, lodge symbols (mostly in color)
Hard to Find Masonic Clip Art Images and Masonic Photos
http://www.eburgmasons.com/25gallery.htm Nice collection of tracing board images and others not seen on other sites. Some esoteric art, the 3 Graces, the 4 Cardinal Virtues, ornate antique aprons and more.
Animated Masonic Clip Art
http://www.mwsite.org/joe'sclipart/
Animated Knights and more.
http://freemasonry.bcy.ca/images/animations/index.html
Moving eyeball and revolving Squares and Compasses
Free Masonic Screensavers
http://www.masonicworld.com/screensaver/
Moving Masonic images on a Past Master Symbol Masonic background. Includes Music (We've Only Just Begun).  Download the new or the old version of this Masonic background image.
---
Sponsored Links
---
Masonic Clip Art Directory
- This page is, essentially, a Masonic clip art directory which contains links to several thousand Masonic symbols, as well as logos for the various appendant bodies such as DeMolay, Rainbow Girls, Eastern Star, Shrine, etc.
There is a wide selection to choose from.
I encourage you to begin using these Masonic computer graphics to assist in the Masonic education of the brethren in your lodge.
Possible lodge uses include:
Masonic lodge websites
 
Lodge Newsletters
 
Officer Installation Announcements
 
Program Handouts
 
Lodge Function Invitations
 
Masonic Business Cards (very handy when you attend Annual Communication)
 
Masonic Greeting & Sympathy Cards

 
Please respect Masonic Clip Art copyrights.  If in doubt, please contact the owner of the website and request permission to use these images.  Please read the disclaimers on each individual website for more information.
To save a specific image, select it and then press the right mouse button and select "Save Picture As" or "Save Image As", depending on your browser.  Then, save it onto your hard drive.
Image resizing can be accomplished using Adobe Photoshop, Corel Draw or shareware programs for Microsoft Windows such as  L-View Pro and Graphics Workshop...any of which will perform the task very nicely.
If you want to visit this Masonic Clip Art page again in the future, but forget the name of this website, just type this into Google:
Masonic Clip Art Websites
---
Masonic Graphics and Free Masonic Clipart Images

High resolution Masonic graphics are best used for printable Masonic symbols and other printed material, as they are much clearer and cleaner.  If you are aware of a URL not listed here that contains high resolution Masonic graphics, please use the Contact Us form to let me know so that I can add it to this page for everyone's benefit.
Dead Links:  Often, webmasters move or take down pages.  The result is that links to those pages become "dead" links.
If any of these Masonic clip art links cease to work, please drop me a note using the Contact Us so that this list will continue to be helpful to everyone.
High Resolution Masonic Clipart Graphics:  We need more High Resolution image websites URLs on this page
Having searched for images, myself, I know it's a tedious, frustrating and very slow process having to search Google for different clip art sites attempting to find good graphics.  (Creating this page, alone, took 2 full days.)
Unfortunately, some of these sites do not rank high on Google search results pages, so if you know of a website with Hi-Res Masonic clip art, suitable for detailed print quality, that is not listed, above, ...again, please use the Contact Us and let me know so I can share them  with everyone and save everyone a lot of time. 
Feel free to link to this page, especially from your lodge website to save your lodge members some time in finding a comprehensive list of Masonic clip art for ongoing lodge use by the various members who labor to create your newsletters and other publications. 

If this page of Masonic clip art and Masonic graphics websites has saved you some time, please pay-it-forward and send it to your lodge's webmaster.
Thank you.
---
Masonic clipart is not only useful for Masonic webmasters; its use helps the brethren begin utilizing Masonic symbols in their duties as Education Officer, Secretary, and in newsletter/trestleboard preparation by providing lodge members with quick access to this quite comprehensive volume of symbols directly from your own website.

If you have enjoyed this page, please pay it forward. Here's how...
Would you prefer to share this page with others by linking to it?
Click on the HTML link code below.
 
Copy and paste it, adding a note of your own, into your blog, your lodge website, a Web page, forums, a blog comment, your Facebook account, or anywhere that someone would find this page to be helpful.
---
Image Editing Software
Microsoft Picture Manager, which comes with most newer operating systems, will perform simple image changes.
Many graphic designers use Adobe Photoshop, or other graphics or image editing software to design, build, crop, layer, and resize graphic images.
Popular FREE image editing software includes:
---
---
Like It?
If you have found this page to be helpful, feel free to share it with your friends.
Click on the Facebook or Twitter icons, below to 'Like' it or 'Tweet' it.