Old Masonic Eastern Star Pins
by Jean Sipes
(Mesa , Az.)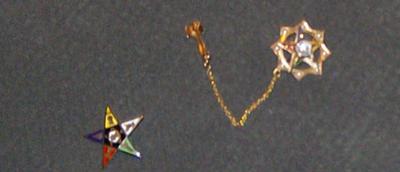 Eastern Star Pins
I have 2 old pins: one Eastern Star pin (?) and one gold star with a gavel attached.

Both are very old ( 50-75 yrs ? ) They have been in my family for a long time. Both my mother and father have had Mason members in their families.

Is there anything you can tell about these pieces?

I have attached 2 photos.

Thank you ,

Jean Sipes

Mesa , Az.

---
Simon: The Eastern Star organization, one of Freemasonry's appendant bodies, has both male and female members, but is predominantly female.
Each symbol within the star is an emblem for the historical female heroines Adah, Ruth, Esther, Martha and Electa, (in this order) whose stories inspire character building lessons.
Members of all religions may join, however each member must believe in a Supreme Being.
Would an O.E.S. member be so kind as to help Jean understand more about the Eastern Star organization, and the symbolism of her Eastern Star jewelry?
Thank you for writing, Jean. Hope this was helpful.