Cross and Circle
and
Magen David With An M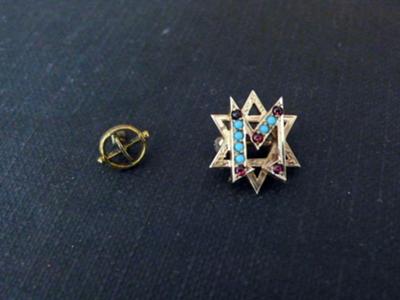 Star of David - Magen David



Hi,

I found these in my Grandmother's things and I'm wondering if you might know what they are?

I've attached a photo. One is a simple circle with a cross and the other is a gold star with an M.

Many thanks,
Teresa



---
Simon Says: I enlarged your photo a little bit, Teresa so it is a little easier to see the details.
As intricate as the larger piece is, I'm sure it has a story to tell.
The hexagram (or 6 pointed star) is known as The Star of David. In Hebrew, it is known as the Shield of David or Magen David, which in modern Hebrew is pronounced as
maˈɡen daˈvid
or as Mogein Dovid
ˈmɔɡeɪn ˈdɔvid
.
The Shield of David is a generally recognized symbol of Jewish identity and Judaism, much as the cross is generally recognized as a symbol of Christianity.
Does anyone else have pieces of jewelry like this, or can you tell Teresa anything about these?