Masonic Certificate
Master Mason Certificate - F. & A.M.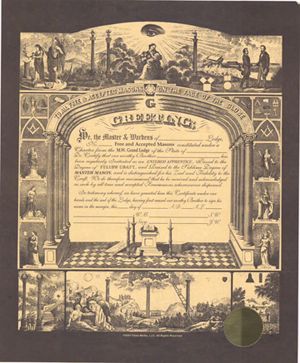 A Masonic Certificate recognizes the Master Mason's special
achievement of having been raised to the highest degree
within Freemasonry.

 
It is awarded in recognition of:
1.  Your Devotion to your lodge, the craft and its
     brotherhood.

2.  Your Personal dedication and commitment
      to Freemasonry's tenets.

3.  Your Ongoing journey in the quest for more light.
 
This visual record attests to the affirmation of your obligation...and while you have already received your lambskin apron; it proudly provides a visual testimonial of your achievements and your ongoing loyalty to the brotherhood...(a "sheepskin", if you will), which honors your independent decision to be the best man that you can be.
_______________
 
This Master Mason Lithograph comes in pre-printed form. 
Names, titles and dates may be hand calligraphied, printed or hand-written onto it before framing.
---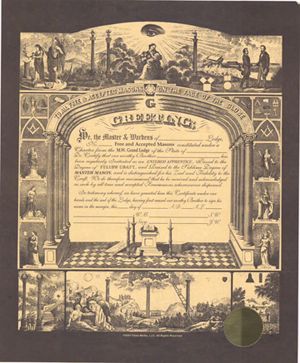 Click on the image, above, for pricing.
F. & A. M. Master Mason Certificate: This impressive and highly detailed F. and A.M. reproduction Master Mason degree lithograph depicts over 70 Freemasonry symbols.

Who Is It For?
1. Lodges wishing to honor their newly raised Master Masons with an affordable, memorable and educational keepsake.
2. Existing members.
3. As a gift presented to recognize and honor 50 year members, Past Masters, and special member achievements.
This is truly a beautiful certificate which you can proudly display.
Freemason symbols include the Eye of God, the Working Tools, the Virtues, the Mosaic Pavement and Columns of Solomon's Temple, the 3 Lesser Lights, the Holy Book upon the altar, the Good Samaritan, Jacob's Stairway to Heaven, Meetings upon High Hills and Low Vales, Boaz and Jachin, Steps of 3, 5 and 7, the Lambskin Apron and many more.
The text is in flowing script says:
To All Free & Accepted Masons on the Face of the Globe Greeting; We the Master & Wardens of _____Lodge, No. ____Free and Accepted Masons constituted under a Charter from the M.W. Grand Lodge of the State of ______Do Certify that our worthy Brother ____has been regularly Initiated as an ENTERED APPRENTICE, Passed to the Degree of FELLOWCRAFT, and Raised to the Sublime Degree of MASTER MASON, and is distinguished for his Zeal and Fidelity to the Craft. We do therefore recommend that he be received and acknowledge as such by all true and accepted Freemasons wheresoever dispersed. In testimony whereof, we have granted him this Certificate under our hands and the seal of the Lodge, having first caused our worthy Brother to sign his name in the margin, this ___day of ____, A.D., ____A.L. _________W.M. __________S.W., _________Secy., ________JW
Size: 14" wide by 17" long
Paper: 28# Gold parchment. Also includes a Gold Foil Seal for imprint with your lodge seal stamp.
PLEASE NOTE: This Masonic certificate is only available in the F. & A.M. designation.
The text and detailed Masonic symbols on the actual certificate is crisp and clear. The image, above, was created from a scan of the 14 inch by 17 inch original and had to be drastically reduced in size in order to be placed on this web page. In doing so, much of the detail work looks somewhat blurred. This is not the case with the actual certificate.
---
Below is an enlargement of the panel located in the bottom left corner of the Masonic certificate.
It shows the steps of 3, 5 and 7 which lead to the throne of the Supreme Being, Boaz and Jachin, two brothers, and the apron which unites them.
Click here to Purchase This F & AM Certificate for yourself or for new members.
Notice: This new, F & AM certificate has been discontinued. We still have some stock left, but once it's gone, you will not be able to purchase them anywhere. If you would like to buy one or more, please do so. When we sell the last one, they will no longer be available. Thank you. ...Simon
---
Return from Masonic Certificate to Masonic Third Degree

---
---